Rajadamnern Birthday Show 2017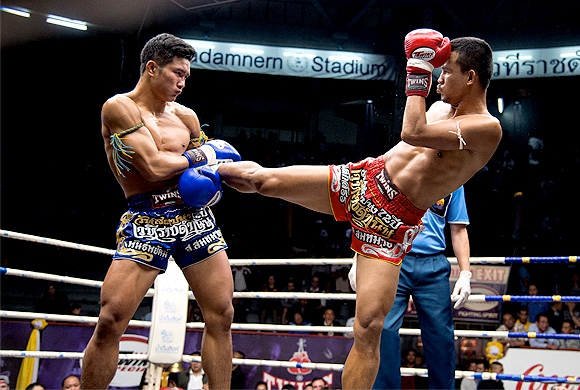 The 21st of December saw the Annual Rajadamnern stadium birthday show take place with a stacked card of fights and several titles on the line.
The main event saw Seksan Or Kwanmuang face Panpayak Sitchefboontham for the inaugural IBF Muaythai Lightweight World title. In the first two rounds Panpayak looked sharp as he picked off the on coming Seksan with some heavy shots. In the third Seksan managed to land with a heavy straight left that dropped Panpayak to the canvas, but he bounced straight back up so there was no count from the referee. This put Panpayak behind though and he had to chase the fight after. Seksan always looked in control though and went on to take a clear points win.
The pre main event saw PetU-thong Or Kwanmuang face off against Gaonar PKSeanchaimuaythai gym for the inaugural IBF Muaythai Superfeatherweight title and the Ratchadamnern stadium belt. This was a close, chess match between two very slick technicians. Both looked to try and catch each other other with fast, well timed counters throughout, with PetU-thong looking strong inside the clinch, but Gaonar scoring with some clever throws and turns. At the end it looked almost impossible t separate them, but PetU-thong took the points win.
Full Results:
1: Sao-ek Kesa gym winner on points vs Rambong Lesawkarnkaa
2: Kaito Wor Wanchai vs Kanongsuk Kor Kampanart winner on points
Vacant Rajadamnern Superbantamweight title
3: Methi Sorjortoypadriew vs Yodkhunsuk Mor Rajaphatjombung winner TKO round 3
Rajadamnern Featherweight title defence
4: Petthaksin Sor Sommai winner KO round 2 vs Jompichit Sitchefboontham
Omnoi stadium Superfeatherweight title defence
5: Rotthang Jitmuangnon vs Mongkolkaew Sor Sommai winner on points
6: Petnamngarm Or Kwanmuang vs Petwason Ansukhumvit winner on points
Vacant IBF Muaythai world title and Rajadamnern stadium Superfeatherweight title fight
7: PetU-thong Or Kwanmuang winner on points vs Gaonar PKSaenchaimuaythai gym
Vacant IBF Muaythai Lightweight World title fight
8: Seksan Or Kwanmuang winner on points vs Panpayak Sitchefboontham